You've probably heard about SEO thousands of times. If you're like most companies, it's likely that you run across SEO advertisements several times a week without thinking much of it. It's even possible that you didn't even know what SEO was until very recently. While it's easy to dismiss SEO as something that only large companies need, this couldn't be further from the truth. In fact, SEO is one of the most important tools for the small business owner who wants to build a web presence and attract new customers, even if you only operate a local location.
Here's what you need to know about SEO and why you should be paying more attention to it.
What is SEO?
SEO stands for "Search engine optimization" and it is the process by which companies and individuals optimize and alter their web content in order to gain a higher ranking in a search engine's search results. In the context of small businesses, SEO often takes the form of listing your complete contact information on your site, participating in third-party review services like Yelp, building and maintaining a blog, and getting active on social media. Small business SEO doesn't have to be difficult or expensive and, as you'll soon see, it's an incredibly important piece of your company's success.
The Top Five Reasons Your Small Business Needs SEO
Without SEO, consumers can't find you
Right now, 97% of all consumers use the Internet to research products and services in their area and more than half of all Americans use the Internet rather than a phone book to locate new businesses. Unless you're focusing on building your local SEO strategy, it's likely that your company won't appear in any of the searches these customers are conducting, which means that you're setting yourself up to miss out on a huge amount of business.
SEO boosts the authority of your business
Have you ever gone online to search for a company only to find that they have no website, no customer reviews, and no contact information online? If you have, there's a decent chance that you didn't do business with that company and, if that's true, you're in line with most consumers.  When a small, local business has focused on SEO enough to provide Google users who are searching for their business with a complete selection of information, it immediately looks more authoritative to customers. For a great example of local SEO, check out this Seattle coffee shop's organic search engine results page listing, which includes photos, customer reviews, hours of operation, complete contact information, and a relevant description.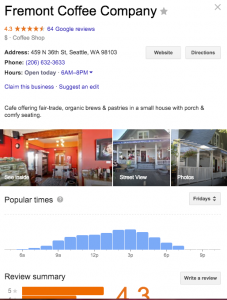 Having a website is not enough
While having a website is a solid start to local SEO, it's not enough. The reason for this is that great small business SEO comes down to a combination of several things, including content marketing, social media, paid advertising, email marketing, and inbound lead generation. While a website is the foundation of many of these things, it's not realistic for companies to build a website that features product and contact information and then simply dust their hands of the entire thing. In order to make a great small business website as effective as possible, it needs to work in concert with the other tools that are available to small businesses today.
Local SEO can help you secure mobile traffic
2015 was the year that mobile search traffic overtook desktop traffic in 10 countries and this trend will only continue. In light of that, it's incredibly important for small businesses to focus on securing mobile traffic and there's no better way to do this than through SEO. Thanks to features like Facebook Nearby (which shows Facebook users businesses near them) and voice search features that are aimed at improving local results, it's easy for companies to produce a big traffic spike with just a little local SEO.
Local SEO helps you get reviews
Did you know that 88% of customers put as much faith in customer testimonials as they do personal recommendations from a friend? In light of this, it's hugely important o gain as many positive customer reviews as possible. This can help you make more sales and earn more customers.
SEO Tips for Small Businesses
Now that you know why SEO is so important for your small business, let's talk about how you can improve your company's SEO strategy. Follow these tips for better results:
Optimize your company's online information. This means using keywords throughout your website, creating a domain name that immediately reflects the purpose and type of your business (sallysNYbakery.com, for example), adding your NAP (name, address, phone number) information to every page of your site and ensuring that all of the information therein is consistent, and adding as much information about your services as possible to all of your various web platforms, including your website and any social media profiles.
Add local information to web copy. To ensure that your company is visible online to people who are searching for businesses like yours, add as much information about your local area as you can to your services pages. This will help you appear in local SERPs (Search engine results pages) and earn the customers who deserve.
Add business listings on third-party sites. If you don't already, you should have business listings on sites like Facebook, Dexknows, Yelp, and YP. This expands your web presence and helps users find you more easily. When building these listings, be sure that you're including photos of your space and products, descriptions of what your company does, and up-to-date NAP information.
Engage with users. User reviews are an important piece of the puzzle when it comes to expanding your online visibility and your engagement with them can go a long way toward building your reputation. That said, try to read and respond to every user review you get, no matter whether they're positive or negative. This helps show other would-be customers that you're engaged with your clients.
Conclusion
While small business SEO is easy to overlook, it's actually incredibly important for the success of your company. By following the above tips and potentially hiring a small business SEO expert to help take your SEO strategy to the next level, you can ensure that your company is visible to everyone who's trying to find it.