To state the obvious: running a retail flower business is hard work. Perishable product, intense competition from seemingly every corner (national floral companies, grocery stores and mass merchandisers, non-floral retailers), increased customer expectations, and constantly evolving technology are just a few of the challenges that might be keeping you up at night.
With more than 40 years' experience in the industry, Vonda LaFever, AIFD, PFCI, has been there — and she wants to help. That's what inspired the Florida-based floral consultant to join forces with fellow TeamFloral alums, Lori Wilson and Kami Martin, and her daughter, Ellie, to create a community that educates, encourages and empowers shop owners and managers to take control of their businesses.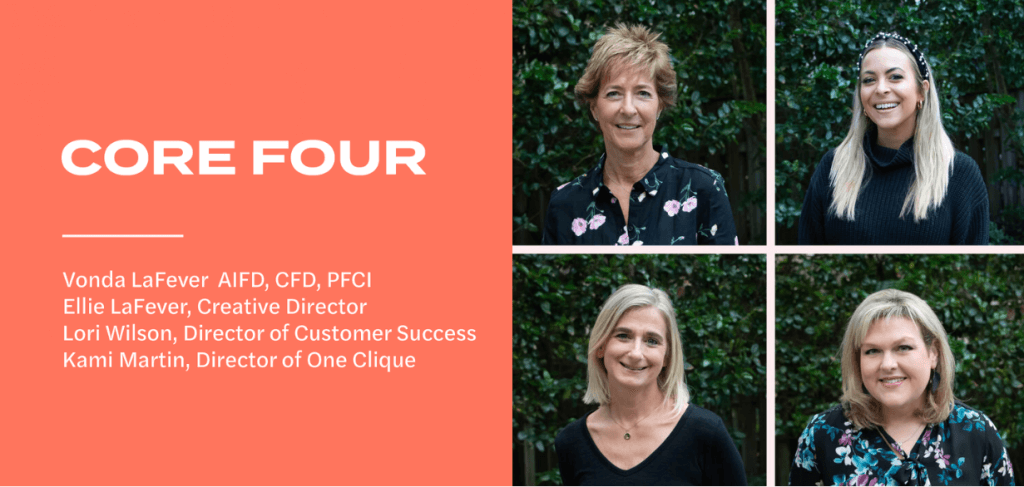 That space, the Flower Clique, launched in January and offers a variety of tools to reduce stress and increase profitability.
"We're here to assist flower shops with solutions for the busy workspace," LaFever said. "I really feel like most shop owners have so much on their plates. There's so much to get done and only so many hours in a day."
Maintaining an effective online presence — an absolute must in the modern age — may be the biggest hardship, she said.
"I've heard many florists say, 'I have all these containers. How do I show that off online?' But the truth is, pages and pages of options overload customers — and they make it difficult for florists to control inventory and costs," she said. "The biggest rule of success is to sell what you have and have what you sell."
That's where "One Clique" comes in. The concierge service, overseen by Martin, regularly refreshes clients' websites with strategically placed, high-calibre images of stylish, profitable arrangements.
"The idea is to limit the number of arrangements available and containers used," LaFever said.
The women came up with eight different categories (excluding sympathy) that each feature 18 highly marketable designs made with distinctive, high-end flowers in chic styles that appeal to young, hip consumers. These arrangements only use white or glass cylinders or cubes, keeping the looks clean and fresh and helping florists simplify their hardgoods. One Clique members get detailed recipes for these designs, receive regular site updates from Flower Clique techs, and have the option of using special standing orders through the Bill Doran Company to supply the product.
"A couple of times a month, our techs will rearrange photos, update categories to reflect the current season, and make cross-merchandising recommendations," LaFever said. "This helps with search engine optimization, so more shoppers find them, and increases the average price per order. The result is a more profitable shop and a more satisfied customer."
Coming down the pipeline, Flower Clique will also offer virtual design ("The Flower Prep School") and leadership training. "We have the videos ready for Flower Prep and are working on complementary workbooks," she said. The curriculum is suited for complete novices, as well as anyone who wants to refresh their basic skills. "You can go from driver to designer with this course."
Additionally, every Tuesday, LaFever and Wilson host a podcast, "The Business & Pleasure of Flowers," which covers a range of topics, such as prepping your shop for holiday business, customer service tips, state association news and more. "We try to keep topics relevant to the current cycle in a flower shop," she said. Each episode is 30 minutes, "something you can listen to on a lunch break or while making a delivery," she said. "They're short and sweet because we know how busy everyone is!"
Update: This posted was updated Feb 26th to clarify the number of designs available, and the nature of the Bill Doran Company standing order relationship.