March Madness is nearly upon us, and soon, thousands will participate in the annual ritual of predicting the next NCAA basketball champion. To tie in to the cultural phenomenon, DVFlora came up with a clever (and oh-so-lovely) floral spin: "the Game of Thorns."
The tournament, a pun on HBO's award-winning series that ended last summer, seeks to crown the ultimate rose. Like the NCAA version, the competition has 64 competitors, divided into four divisions (Purity, Charm, Gratitude, and Passion).
We caught up with John Burk, e-commerce project manager for DVFlora, to learn more about the company's latest promotion.
Strider: There are so many rose varieties available — how did you come up with the playing field?
JB: We struggled a little on how to pick which varieties would be featured and how they should be laid out. Our original thought was to create the matchups based on 2019 sales history, so the rose with the highest sales would go against the one with the lowest sales. This would kind of create a true "seeding" method. However, after looking at it, we decided it wasn't aesthetically pleasing and would be hard for people to vote.
Another thought was to group them by colour, which was also difficult because we had to determine an even number of selections within each grouping.  For example, we didn't want a Yellow going against a Red in the first round, which meant we had to come up with 8 Red and 8 Yellow.  This ended up being the layout we chose, which is kind of neat because we'll be able to see the most popular variety in each colour group.
We also went back and forth on the division names, before settling on Purity, Charm, Gratitude, and Passion. Each of the names represents the meaning of a colour in that division, which we thought worked out perfectly.
Finally, we wanted to engage our employees in this as well. So, we've placed brackets in all of our locations and asked them to fill it out to try to predict who the winner will be. The employee with the most correct winning matchups for the entire competition will win two prizes: a Bluetooth speaker and they can choose to send a flower arrangement to someone in their life. Of course, we'll coordinate with one of our customers to make sure the winning rose variety is included in the design.
Strider: Are there any new varieties included in the competition?
JB: This is kind of trick question because all of the varieties are at least a year old. We like to say it takes three years for a "new" variety to mature in the market; so, in that case, there are many new selections featured here. Some of those we think are stunning and should advance; however, maybe because of low production some customers are not aware of them.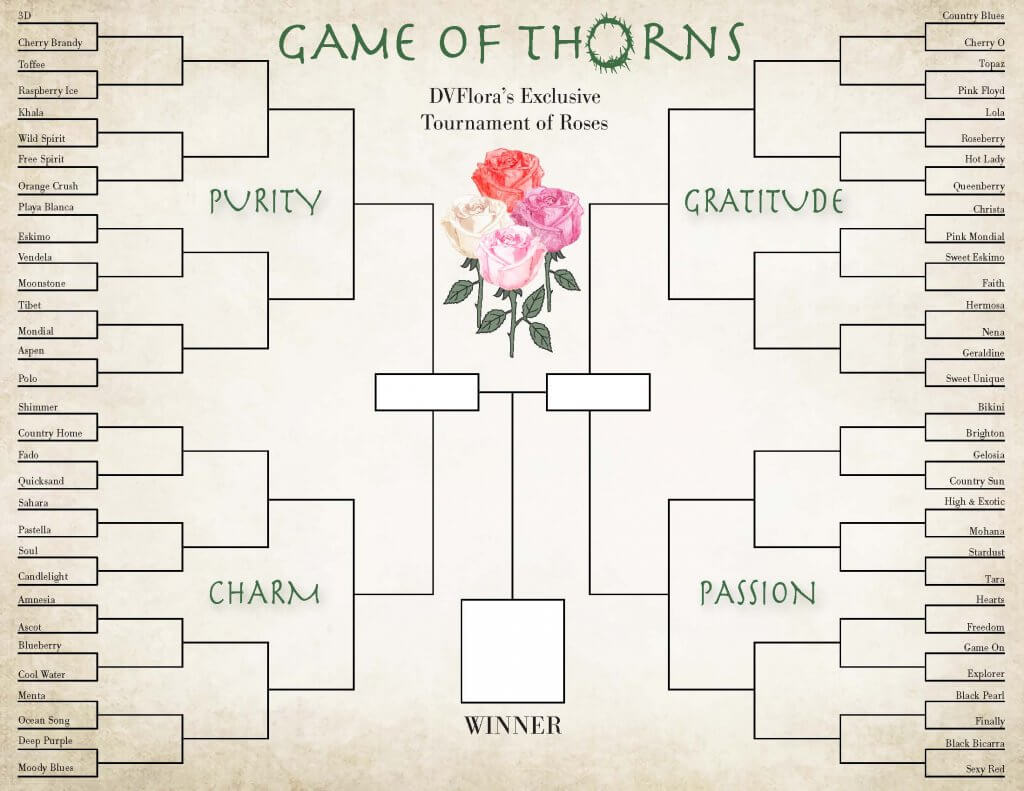 Strider: Does DVFlora plan to use this game as intel on customers' preferences?
JB: Sure, we'll be able to track the votes to see how well each variety performs in their respective matchups.  I think it will be more interesting to see which are underperforming and decide if we should be putting more marketing efforts into those selections.
Strider: It seems like this is a great opportunity to open the minds of florists who always buy the exact same roses. Is that one motivation of the tournament?
JB: Education is a big part of why we are doing this, along with just having some fun.  As I mentioned earlier, there are some varieties that deserve more attention than what they normally get, simply because a designer has been using their favourite pink rose and are afraid to venture away from that.  When you see that another variety is outperforming your favourite, maybe you'll be inclined to try it out next time.
The tournament kicked off last Saturday and voting for the first round is open until Friday, March 6. The winning rose will be crowned on Monday, April 6. Visit the DVFlora site for more information and to vote.