Android users everywhere are familiar with the Play store: the app that has long since been needed to install Android apps from Google's search engine results pages.
While some users felt ambivalent about the extra step, others hated it. Fortunately, it looks like the need to open the Play store to download apps is on its way out. According to Search Engine Land, Fortune, and other expert sources, Android has been testing a product that allows users to download Android apps directly from Google search and some Android users claim the feature has been live for them since December of last year.
While Google seems to always have something up their sleeve, this update streamlines the app download process in a way that makes it quicker and easier for users. There's not much information available about this update yet and we know that it's not available for everyone just yet. In the meantime, however, here's what you need to know:
Google: A Coy Giant
Google has a reputation for being coy about its advancements and updates. According to Fortune, a reporter from that establishment approached Google to ask about the direct-from-search download and was told that Google "is always experimenting with ways to provide the best search results and help you find the best content possible." If you don't think that's very illuminating, you're right.
Despite the fact that Google isn't divulging much, Android Police recently shared several screenshots of the direct-download platform and what it looks like at various stages.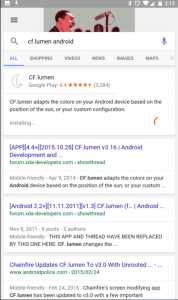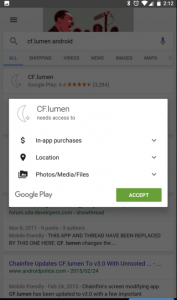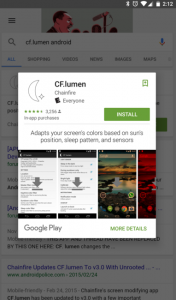 Despite this screenshot, it's likely that the direct-download feature isn't available on your account just yet. The reason for this is that Google typically rolls new products out very slowly, testing them in small batches before opening them up to their entire client base. This is true with everything from Google's search engine algorithm updates, such as Panda and Hummingbird, which generally roll out quietly over the course of several months, to its numerous app updates.
In this case, it seems like the users who do currently have access are part of the small group of test users that precedes the wider rollout. Users who aren't in this small, initial group should have access to the feature within the next several months.
From what we know right now, the direct-download feature is limited to the Google Search app and won't work within Chrome. For Google users with default Android setups, typing search queries into the phone's home screen Google search bar will be a simple way to take advantage of the direct-download feature once it is fully rolled-out to all users.
Google's Numerous Attempts to Enhance Mobile Search
If you're familiar with Google, you'll know that this recent development is simply one in a series of attempts on the part of the search engine giant to enhance the mobile search experience as it pertains to third-party apps. In today's world, app developers can choose to allow Google to index any data that is contained within an application.
This process is known as app indexing and is one of the ways that Google allows its users to search the Google platform for a specific page within an app rather than being placed on an external site or landing page. This streamlines search and produces more relevant, valuable, and instant results for users without making them jump through the hoops of multiple pages to get there.
A great example of this is the way in which a user's search for a local coffee shop will offer options to view the shop's information on a third-party site like Yelp instead of on the site's personal web page. This offers the user the information they're likely looking for (such as location, store hours, or contact information) without making them scroll through pages or zoom in on the tiny text at the base of a website.
Google has also been taking steps to make apps more streamlined for users. Just last year, for example, the Play Store was updated to begin accepting promotional codes when users went to pay for apps. This enhanced the payment experience and made it easy for users to input a pre-copied code for purchases. This feature, along with the direct-search and app-indexing features are all part of Google's mission to make mobile search and app downloads easier than ever.
How to Check Your Account for the New Direct Download Feature
If you're hoping that you might be among the users who do have access to this feature, here's how you can check:
Launch Google's search app
Search for the name of an application you like and don't already own
When the results appear, there will be a picture of the app in question alongside a link to install the app. Click "Install"
At this point, Google will either launch the Play store or you will instead be redirected to the app permissions page at the top of the Search Results page. If this happens, your account has access to the new feature.
If you can't access the new feature just yet, don't get discouraged. The direct-download capability should be available to all Android users before the middle of the year.
Conclusion
While Google is keeping mum about the direct-download feature (presumably until it proves to be desirable and bug-free), it's obvious that the capability is in the early stages of a larger roll-out. While major Android outlets have only recently begun reporting on this, Android users should keep an eye out during the next several months for any changes or update to their app downloading capabilities.
While the removal of the Play Store isn't revolutionary, it does streamline app downloads in a way that makes them more convenient and enjoyable for Android users. Until Google releases an official statement regarding the update, the only thing you can do to stay abreast of the roll-out is to keep checking your search results to find out whether or not the update has gone live for you.
To learn more about Android and Google, or to stay up-to-date on this change and others, get in touch with Strider SEO today.